photo credit: BStok Production
What I Eat in a Day on the Bean Protocol?
I've had many people reach out to me asking what I eat in a day while on the Bean Protocol. Some inquired if I only eat beans. Some asked how I can possibly add beans to every meal. Some debated how much beans I add to my meals. I decided to write this post to give you a comprehensive guide and ideas of what you could eat while on the Bean Protocol. It's actually pretty straightforward.
There are strict rules while on the protocol. You can see a previous post I wrote, which provided the Bean Protocol summary here:
10 Things You Should Know About the Bean Protocol
The rule of thumb is that you must eat 3 meals a day consisting of 1/2 cup of beans, a palm-sized serving of healthy protein, and 1/2 cup of veggies. It's actually quite simple when you break it down this way. The part that gets tricky is keeping out all the items on the no list. Some of these include soy, coconut, caffeine, alcohol, and sugar. That immediately eliminates fruits, tofu, chocolate, sweeteners, coffee, etc., from all of your meals. You'd be surprised to see how many items have added sugar to them. Karen Hurd, the creator of the Bean Protocol, states that you can have naturally added sugar up to 5g per serving. That's actually not a lot, so please be careful when choosing your ingredients.
Breakfast
Here is what my breakfast looks like. I keep it super basic and whole foods-based. I eat mostly plant-based meals, but for the purpose of the protocol have added 1-2 eggs a day to my diet. Every morning I sautee or cook 1 egg, 1/2 cup of beans, and a seasonal veggie of choice. Lately, I've been eating raw tomatoes from my mom's garden to fulfill my veggie requirement. Those are just too good to pass up. Other times, I'll cook things like spinach, onions and mushrooms, carrots, or other collard greens with my beans. I usually season them with some curry powder, fresh garlic, and salt. There are endless combinations of this breakfast. What I love about it most is that it's healthy, quick, and very easy to make. It checks all the boxes for me.
Lunch
Lunches vary based on whether I cook them or my husband makes something. We actually subscribe to Purple Carrot, which is a plant-based delivery system, offering delicious vegan meals. If he cooks, that's what he makes. I coached him, though, not to mix fats with my beans and what ingredients I couldn't have. I carefully choose the meals for each week, making sure I select the most Bean Protocol-friendly recipes. If you'd like to try the subscription yourself, they are offering 30$ off your first week of meals. When I make my lunch myself, I usually eat dinner leftovers or make my few go-to recipes. Sometimes I make a bean salad with a hard-boiled egg. I make some cauliflower gnocchi with beans in tomato sauce and an egg on the side. Sometimes I make a tomato and cucumber salad with beans and scrambled eggs. Here are some recipes you could try for lunch:
My go-to lentil bolognese (I use chickpea pasta): https://biancazapatka.com/en/lentil-bolognese-with-spaghetti-vegan/
Bean salad recipe (remember to keep your oil to a minimum, we don't want to mix it with the beans if we can avoid it): https://cooktoria.com/three-bean-salad/#wprm-recipe-container-10889
This one is by far my favorite chili recipe I've ever made. Enjoy! https://milkfreemom.com/vegan-quinoa-sweet-potato-chili/
Dinner
If I do not have Purple Carrot for dinner, I will usually make a Mexican-inspired recipe, a soup, potato, or pasta dish. I am trying to keep carbs and grains out of my diet for weight loss purposes, but being frankly honest here, I don't succeed in that every day. I just love potatoes so much! We have a go-to Mexican take-out place that we order from, where sometimes I will get steamed veggies, Mexican rice, and black bean combo. That's honestly the only meal I can order where I feel I am following the Bean Protocol. It's hard to order out if you genuinely want to keep the protocol clean, but it's doable. Here are some fantastic Bean Protocol-friendly dinner recipes I recommend.
This soup was terrific, hold the coconut! I added some almond milk instead: https://elavegan.com/vegan-white-bean-soup/#wprm-recipe-container-7730
Chickpea stew, I doubled my chickpeas and some of the ingredients mentioned: https://healthiersteps.com/recipe/chickpea-stew-gluten-free-vegan/
Shepherd's Pie, hold the vegan butter (it probably has coconut or soy in it), add oat or almond milk instead: https://minimalistbaker.com/1-hour-vegan-shepherds-pie/
That's basically what I've been eating. It can get tricky when I go away for the weekend or someone invites me over for dinner. I do bring my own set of beans, which I add to the meals, and try to stick to the protocol as much as possible. If I can't follow it strictly, I give myself some grace and try and track it at least 80% of the time. I still see amazing results in terms of improved health, despite sometimes not following the protocol entirely. Let me know if you're on the protocol, how far along you are in the process, and what results from you have seen so far in the comments below. Or send me a DM on IG @lena.livinsky. I can't wait to hear from you!

Download The Bean Protocol Summary Here: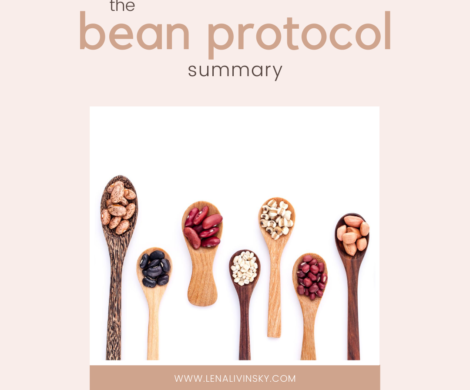 Listen to my interview with Unique Hammond :